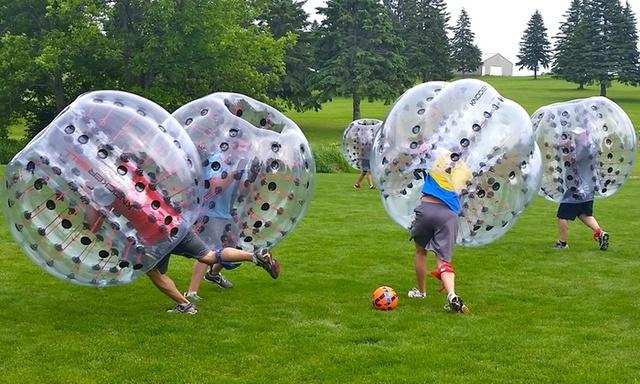 Bubble Soccer
Knocker Ball is a single chamber sphere with inner handles and adjustable shoulder straps. The rules are simple. Stay alert, look all around you, and score goals! In Knocker Ball, the best part are center dash kick offs after each goal scored in the game and there's no such thing as off sides! There really isn't an official "goalie" so if there's someone in your way, you "BUMP" them! Includes 6 balls (kids or adults) and an attendant.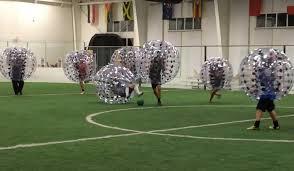 Bubble Soccer -aka-
Knocker Ball
Set Up Area: 30ft x 30ft - sizes may vary based on venues. It is recommended to play on grass or a soft surface.

Power Required: 1 x 110 Volt Circuit to initially inflate all the bubbles. Bubbles are secured for play.

We send 7 Bubbles with Goal Nets, a Soccer Ball, and Cones for set up. Play is intended to be 3 vs. 3, the extra ball is for players to sub or to replace one if needed.

Please tell your sales rep if you prefer Large, Small, or a mix of sizes when booking to suit your Guests.
Bubbles - How do they work?
Watch our staff demonstrate putting on one of the Bubbles for Bubble Soccer!

This Video shows a Small Bubble. We have small and large sizes.