Royal Jr. Trackless Train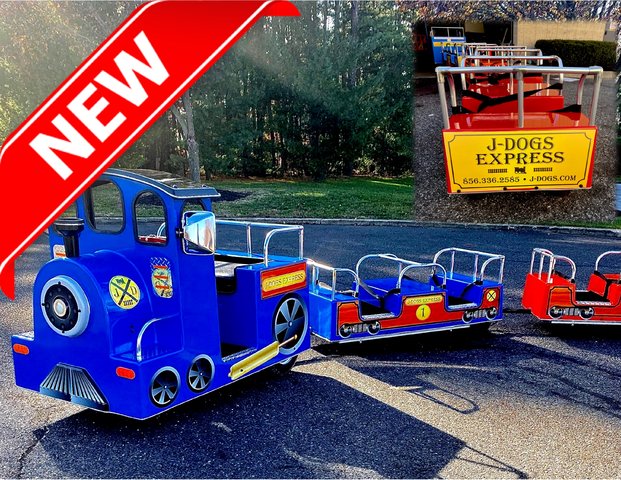 Royal JR, SR, Royal Ranger
Up to 24 passengers will go for a train ride having the time of there life, while the train bell rings and the whistle blows. CHOO CHOO!!!!! Includes staff and 4 Hrs. of ride time. There are 3 options available for rent- Royal jr. (kids, small indoor spaces), Royal Sr. (adults, indoor/outdoor), Royal Ranger (Outdoors)
Overall Length: 25 feet
Riders-
Engine Dimensions: 35 1/2' W x 61"L x 56"H

Coach Car Dimensions: 26" W x 78" L x 22"H

Run Time: 8 hours running on smooth flat surface (concrete, pavement, hardwood floor). Run-time will be less on grass.

Turning Radius Curb to Curb: 14 feet

Operates Indoors or Outdoors

Rider Capacity (per car)
(8) children at 30lbs each
(6) children at 40lbs each
(4) children (2) adults total weight not to exceed 600lbs total


****DUE TO THE WEIGHT - THIS TRAIN CANNOT BE BROUGHT UP STEPS****
J-Dogs Express
This model electric train is great for both indoor and outdoor events. The train and all coaches will fit through a 36" doorway. Call today to reserve the train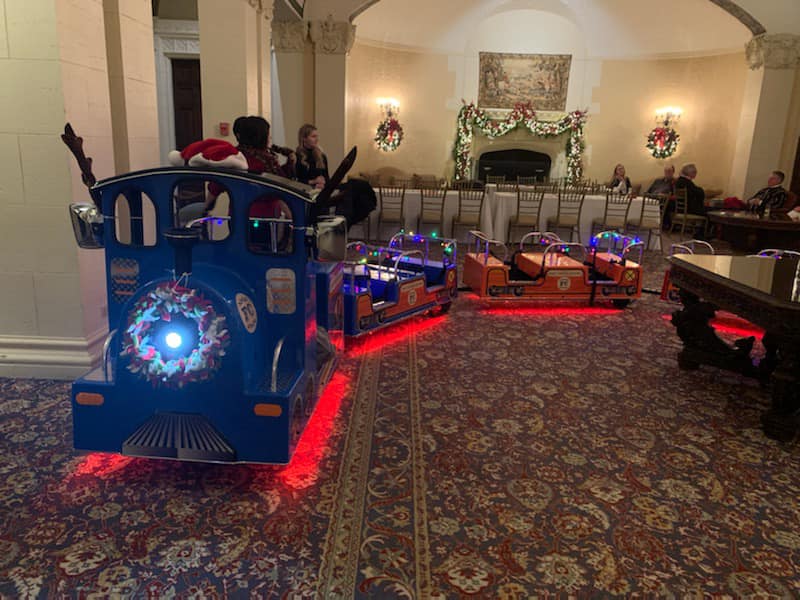 Royal Sr. Trackless Train
Overall Length: 25 feet

Run Time: 8-10 hours running on smooth flat surface

Turning Radius Curb to Curb: 18 feet

Electric version Operates Indoors or Outdoors
Gas Version operates outdoors only

Capacity 16-18 Passengers (6 children or 4 adults per coach)

Rides on Hard Surface or Grass

COLOR OF TRAIN MAY VARY DEPENDING ON AVAILABILITY.
Royal Sr. Trackless Train
Royal sr. is great for both kids and adults. Please click the video to hear the bell. Call today to reserve this train.
Set Up Area: Varies; Truck requires about 6ft in width to pass through and can turn around on a standard street. Can drive on level pavement, grass, dirt, or tile floor.

Power: Please specify if your event is indoor/outdoor. There are electric or gas options available.

Height Minimum is 30" Tall in order to ride.

Capacity 12-14 Children (also carries adults; but less would be able to ride)

Features: 4 Electronic Authentic Fire Truck Sounds, Flashing Red Emergency Light, Headlights, Fire Bell, Seat Belts