J-Dogs has more than 30 years of experience transforming events into wonderful memories for families, companies, and communities from the Philadelphia area to New Jersey, New York, and even Delaware and Maryland. Contact us today to start bringing your celebration visions to life.
Jun 2019
J-Dogs Brings the Party to You!
If you are planning an event and want to make a big splash, let J-Dogs Catering & Amusements bring your vision to life. Anything you can dream up, J-Dogs can deliver. Check out just a few of the ways J-Dogs will transform your party into an unforgettable experience.
As a full-service caterer and rental service for inflatables, rides, arcade games, and much more, J-Dogs creates a carnival that's fun for all ages. Contact us today to book your event!
---
April 2019
How J-Dogs Catering & Amusements Can Turn Your Corporate or School Event Unforgettable Corporate Party
Planning an event at your business, university, or school but tired of the same old entertainment options? J-Dogs Catering & Amusements to the rescue! We serve New Jersey, Philadelphia, and the Mid Atlantic Region and provide all the pieces necessary for an amazing party. Check out this infographic for just a taste of what we can do for you.

For
food truck catering near Philadelphia
or inflatable castles at the Jersey Shore, J-Dogs has you covered. If you're ready to take the plunge into planning an unforgettable corporate or school party, give J-Dogs a
call
or browse our website to book any of our catering and amusement services!
---
March 2019
J-Dogs Provides All The Pieces for A Perfect Corporate Party
If you've been looking for ways to take your corporate event to the next level, your search ends here. J-Dogs Catering & Amusements brings the fun to your doorstep. All you need is a venue and guests - and us!
Check out this brief slideshow video for a peek at all the options we offer!
<span style="color: rgb(40, 60, 70); font-family: Graphik, &quot;Helvetica Neue&quot;, helvetica, &quot;Apple Color Emoji&quot;, arial, sans-serif;>To schedule food truck catering in the Philadelphia metropolitan area, or to inquire about our various corporate event entertainment possibilities, contact J-Dogs today. Let the fun begin!
---
Tips for Planning the Perfect Corporate Event
May 2019
When was the last time you attended a corporate event where you really had a good time? Can you even remember anything about your last corporate event? If you saw a corporate event penciled in on your calendar, would you look forward to it?
If it's your turn to plan one of these events, whether you're entertaining clients or throwing the annual company picnic, it's time to break from the norm. Hiring J-Dogs Catering & Amusements for corporate event entertainment in New Jersey, Pennsylvania, Delaware, Maryland, and all the way up to New York, will turn an obligatory company function into unforgettable memories.
Those unforgettable memories could mean potential growth and increased profits for your company.
Entertainment might be one of the most important considerations when organizing a corporate event, but there are plenty of other crucial items on the party planner's to-do list. Here are a few tips to keep the stress to a minimum while maximizing the fun for employees and clients.
Have a clear purpose. Is your event meant to woo potential new clients, butter up existing clients, build your brand and reputation in the community, or just reward employees for their dedication? No matter how much fun you build into the day, tailor every moment of the event to serving that purpose.
Pick a proper venue. If you need to rent a facility or secure space at a public park, make sure to visit the space and ensure it serves all your needs. Consider the space itself, electricity, internet access, restroom facilities and its geographic accessibility for customers, clients, and employees.
Set a budget. This is business, after all, and the bottom line matters. Spend on the most important elements of the event - such as food and entertainment! - and save on extravagances that don't serve your event's mission.
Pick a theme. This is a great way to market an event to potential guests and to streamline entertainment and decoration options. Even if you're going for a more formal gathering, a theme can go a long way in giving the event personality.
Need help coming up with a fun theme for your next corporate event? Watch this quick slideshow video for a few ideas.
Offer activities. Guests like to be engaged, especially if they're being asked to sit through business presentations or educational seminars during the event. Activities are not only fun; they're a wonderful way to break the ice for people who haven't met before. Shared experience leads to priceless networking opportunities, which lead to business success.
Choose the right menu. The food you serve can make or break an event. So can running out of food. When setting the menu, make sure to consider quality, quantity, and variety. If you offer tasty treats to suit everyone's palate, you'll keep your guests around longer - and when they do leave, they'll leave singing your praises.
Our final tip, of course, is to call us. Not only do we offer the most out-of-the-box options for corporate event entertainment in New Jersey and the surrounding regions, including carnival rides and fun inflatables, but we can take care of all those tasty treats, too, and at competitive prices you won't want to pass up. Hiring J-Dogs for your event automatically knocks several items off your to-do list, all at once.
Follow our tips, and we promise your corporate event will create a lasting impression. The next time you throw a party, employees and clients alike will circle the date in red, eager to see what you have up your sleeve.
---
November 2016
J-Dogs' Corporate Celebration Guide: "Funify" Your Company Party
You may have heard the phrase, "business as usual," but have you ever witnessed the UNusual side of companies? The fun side of corporations is often overshadowed by quarterly reports, industry conferences and big meetings, but progressive businesses have noticed a tremendous change when it comes to company culture in the 21st century.
Businesses that treat their employees as a number or means to profit, do not effectively increase productivity the same way a company that incentivizes employees does. Employees work hard for bosses that care. We want to feel valued and wake up every morning looking forward to making a difference on the job. While that scenario isn't realistic for everybody, a utopian workplace is possible when you find your calling.
One way to show your employees that you care for their well-being is by throwing company parties. From corporate picnics in Philadelphia to team-building competitions in Jersey, you can expect a morale boost shortly after hosting a fun event that allows colleagues to let their hair down and network on a personal level.
Here are 3 ways to take your Employee Appreciation Day to the next level:
Schedule it on a work day - Don't make your employees use their weekend to attend a company event. Instead, let them have an extended weekend feel by hosting the company party on a Monday or Friday. They deserve to feel special, and they deserve to be paid to play games once or twice a year. Think of it as an investment: When different events improve communication, everybody wins!

Rent games and amusements for adults and kids - Our moonbounces for rent are a hit at South Jersey company gatherings because they appeal to people of all ages. We have inflatable obstacle courses for parents and bouncy castles for their kids. It's a win-win when everybody has fun and stays safe!

Supply food for everybody - J-Dogs makes this easy. We have professional catering packages and specials that offer everything from cotton candy to pork sliders. Our menu is huge! We have cuisine that caters to any party theme. Don't cut corners by getting frozen foods; your employees deserve the freshness.
We love customizing corporate parties because it gives us a chance to be creative while pleasing our clients. Our staff members are experienced, and they are happy to walk you through the entire process (free recommendations and all). For more information, call us today at 856-607-2816.
---
October 2016
5 Inflatables Every Halloween Party Should Consider Renting
It's always best to have a theme for your parties. That's why October parties are the most creative. There are so many themes to choose from, and they all can be used at a Halloween party. We aren't just talking about kids' birthday parties either. Many companies let their fun side shine by renting a few inflatables to boost their employee morale.
Here are five options that are great for October and November celebrations...
Pirates Obstacle Challenge - Kids can't get enough of these obstacle courses. It is in the shape of a pirate ship and even has an inflatable cannon, pirate, and skull flag on top. This is one of "arrrrrgh" most popular rentals in October for kids ages 7-13.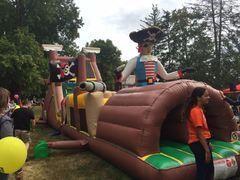 Special Ops Obstacle Course - Kids ages 14-17 love bouncing on this military-themed monster. This inflatable has a 5-foot and 9-foot slide that two people can race down simultaneously. This is great for people who play Call Of Duty or enjoy movies like The Hunt For Red October.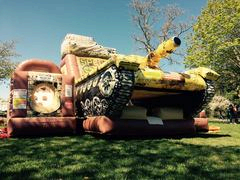 Princess Bounce - This Disney-themed inflatable is great for girls who love feeling like Princesses living in a real-life fairy tale. This bouncy house features Cinderella, Snow White, Jasmine, Belle, and Sleeping Beauty.
Hello Kitty Play Park - This play place is safe, fun, and unforgettable for younger children. It features a design that lets kids feel like they are walking around a town from Hello Kitty. Dimensions: 18L x 19W x 10H.
Sports Bounce - Kids commonly dress up as athletes and sports stars for Halloween. This inflatable sports arena equates to long-lasting fun for kids who play soccer, baseball, softball, basketball, football, and hockey.
ALSO - Don't forget our "Featured Items" for October which include a Halloween Themed Bounce House, Harvest Themed Bounce & Slide Combo, Conk the Crow Carnival Game, and our Pumpkin Patch / Pumpkin Decorating Station!
All of our items are checked for quality, and our technicians and attendants are professionally trained. We also offer an amazing array of catering options that are the perfect finishing touch for any Halloween bash. For more information, call 856-607-2816 or visit http://j-dog.com today.


---
September 2016
3 Footbally Foods Every Tailgate Should Have
Hut. Hut. HIKE! Football season is back, and Wentzlemania is in full swing across Philadelphia, South Jersey, and Delaware! What's Wentzlemania you ask? Hmmm... You must not be a Philadelphia Eagles fan... That's OK. We'll explain:
In this years NFL Draft, the Philadelphia Eagles drafted Carson Wentz, a quarterback from North Dakota State. Carson was originally slated as a back-up when a trade of starting QB Sam Bradford catapulted Mr. Wentz atop the depth chart into the starting role. Through the first two weeks of the NFL season, Wentz has impressed even the harshest of critics leading the Philadelphia Eagles to an undefeated 2-0 start and has yet to throw an interception. This, my friends, is Wentzlemania.
As our third game nears, many fans are wondering how the Eagles will fare against the Pittsburgh Steelers, who are an undefeated powerhouse thought to be Super Bowl bound in 2016-17. The one advantage we have is home field. The game takes place in Philadelphia (Wentzylvania). This means it's time for Philadelphia fans to do our part at the game. We must be loud. We must be proud. We must be an unforgettable crowd.
To achieve this, we must tailgate responsibly. We must sufficiently fuel ourselves full of hearty meals and hydrating beverages to keep our energy level high. A proper tailgate requires proper catering. Large groups of fans should spend their handling the important details (making signs, tossing bean bags, etc.) while a specialist (J-Dogs?!) handles the food prep.
Here are three foods that we offer that are perfect for your next big sports party:
1 - The Slider Bar - Includes 2 professional attendants, paper goods, a tent for cooking area, skirted serving tables, menu signs, setup, cleanup, and up to 3 hours of cooking service.
Signature Sliders - Pulled Pork with Coleslaw & Pickles
Italian Special - Meatball Sliders with Mozzarella & Marinara
Vegetarian-Friendly - Grilled Portobello Mushroom & Roasted Red Pepper with Balsamic Drizzle.
2 - Hot Pretzel Bites - Philly is known for their amazing pretzels just like the way J-Dogs is known for providing hot food and inflatable slides for rent in Philadelphia.
3 - J-Dogs Authentic N.Y. Style Hot Dog Cart - J-Dog's 100% all beef hot dogs are always a good choice when rooting for underdogs (the Eagles). Our hot dog carts can be branded with a custom logo or name for an additional charge to help your group stand out from the crowd. Custom menu signs are also available.
The moral the story - Defense doesn't win championships, pregame parking lot food does.

As you can see, J-Dogs Amusements is a lot more than just inflatable slides for rent in NYC, NJ, and PA. Our food selection is broad, diverse, and perfect for tailgates, parties, and corporate events. To learn more, visit http://j-dogs.com today!
---
August 2016
Pop-Up, Inflatable Museums May Be The Future Of Learning
No two children are identical. Even twins think and learn differently. Although we all have common interests, everybody across the world possesses traits as unique as fingerprints on snowflakes.
Since kids all respond better to different educational methods, it's important to think outside the box. Some prefer text-based curriculums full of books and internet articles, while others thrive on hands-on learning and videos.
One company in England is taking a totally new approach to teaching children by bringing the learning experience right to the school. While not all kids love History, most love inflatables. The Manchester Museum thinks that kids will respond to this approach because it gives them a reason to get excited to learn. One theme that seemed effective was the Ancient Egypt, where students could have hands-on experiences with actual fossils and watch a video inside the inflatable museum on its projector screen. Click HERE to be taken BBC's website where you can watch the video showcasing the awesome inflatable!

Will this become a trend in America? We don't know. What we do know is that inflatable slides for rent in Philadelphia are already a smashing success. Might as well combine learning somehow, right? Something for us to think about. After all, J-Dogs is the authority on inflatable attractions in Bucks County, Philly, and beyond! Oh, and- did you know we also have inflatable slides for rent in NYC and Jersey? Pretty neat, right?
We have a vast selection of moon bounces, bouncy castles, obstacle courses, carnival games, characters, and other entertainment for children's parties.
Don't forget about our summer discounts:
50% off on weekdays

20% of weekends

25% off (two or more) on weekends
If you want to combine our fun rides with educational activities, feel free! Our attractions make great incentives for kids who want to compete in trivia, spelling bees, arts & crafts, and other learning games. Get creative! There are no rules when it comes to learning and having fun… Well, technically there is one rule: Be safe! Our equipment is durable, and our attendants are experienced and friendly professionals. Check out our New For 2016 collection and let us know what tickles your fancy. ((( Phone - %u200B856-607-2816 )))
---
July 2016
8 Attractions That Will Liven Up Your Party
Party time can be any time when you work with J-Dogs. We take pride in providing incredible, entertaining attractions specifically to meet your needs. If you're hosting a networking event, we can cater the food and games to be more upscale. If you're throwing a Labor Day or Halloween bash, or if your child is celebrating their birthday, Sweet 16, or graduation; J-Dogs can be your special guest to liven up the party. From inflatable slides for rent in NYC to moonwalks for rent in South Jersey, this blog will explore 10 of the best rentable attractions that we offer.
1 - 3-Lane Sports Obstacle Course - As football season begins and baseball enters the postseason, this obstacle course is always a fan favorite. Triple your fun by having three guests compete at the same time in this safe, enjoyable inflatable race.
2 - Circus Train - This inflatable is ideal for children age 2-7 and is an amazing piece that is sure to capture lots of attention at any kids event. Part of the interior is non-inflatable, making it more durable and versatile than many other amusements!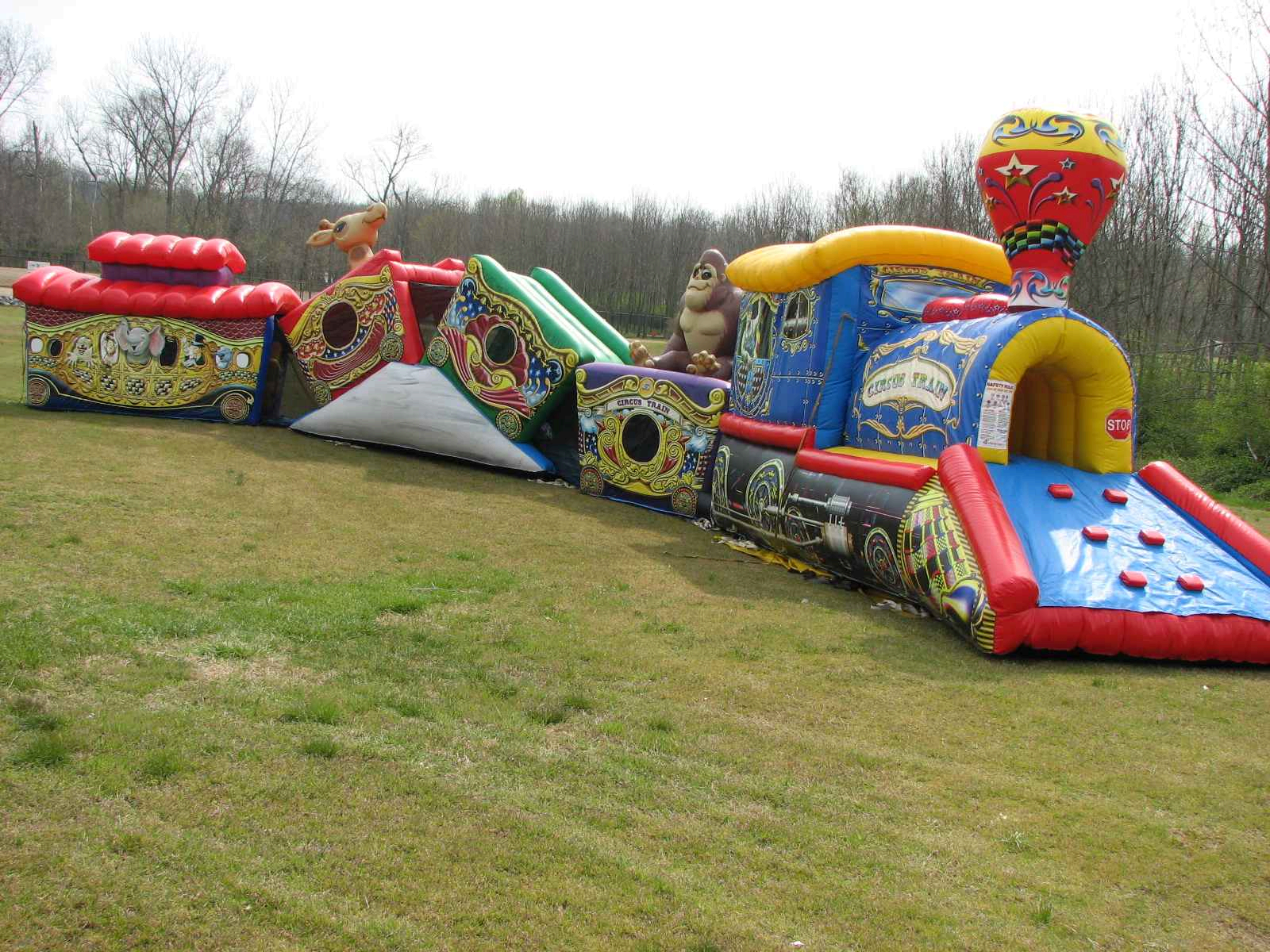 3 - Velcro Wall - Strap on your Velcro suit, starting running, and bounce your way into the sticky wall. The most fun part is getting stuck up there and safely bouncing down when you're done!
4 - Super Splash Water Slide - Water slides are still relevant with August-October expected to be as warm as ever! Dimensions: 18'H x 20'W x 25'L
5 - Misting Fan - For those hot days, this is fun for everybody to run through or stand near to cool down immediately.
6 - Spin Art - An attendant is included with this fun art booth. Express yourself. Get colorful. This gives kids a souvenir to take home that can be hung on the wall or the fridge!
7 - Mechanical Bull - Great for teenagers, college students, and adults! Figure out which one of your friends has the best endurance while riding the bucking bull attraction! Don't worry; when you fall, you land on a bouncing inflatable surface that makes it all worthwhile!
8 - Sports Blast - A 3-in-1 sports combo game that incorporates soccer, basketball, and football! Something for everyone!
Whether you're interested in inflatable slides for rent nearby Philadelphia or NYC bounce house rentals, we've got you covered. For more information, visit http://j-dogs today or call 856-607-2816!
---
June 2016
Real life Hunger/Games
No, we do not have 12 Districts or a nationally televised youth competition like the Hunger Games movies, but we do have plenty of attractions for boys and girls to compete it ranging from obstacle courses to carnival games. Although fun is not a life or death situation, it is critical to provide a good time at all kids parties for guests, parents, and, of course, the birthday boy/girl.
Sometimes the games (and inflatables) lead to hunger, and that's OK. Recently J-Dogs has added some awesome options to our party catering menu to be a full-service fun provider in NJ and PA.
After your fun in the sun you may be in the mood for food (such as the following):

FOOD CARTS
Hot Dogs - Our mouth-watering Hot-Diggity-Dogs are perfect for sports parties. Bring that ballgame feel right to your back porch with J-Dog's catering!

Pop Corn, Funnel Cake, Cotton Candy, and Fried Oreos - That carnival vibe is only one call away with these tremendous snacks for kids and adults alike!

Ice Cream, Mini Melts, Milkshakes, and Smoothies - After you get a good workout on our moon bounces for rent in South Jersey, cool off with these refreshing selections!

Hot Chocolate, Coffee, and Hot Apple Cider - If you got splashed with any cold water, these drinks will heat things up immediately for you and your crew!
GRILLED FOODS
Hamburgers, Cheeseburgers, and Veggie Burgers - Burgers for carnivores and vegetarians that will keep you nourished and energized for hours on end. Chow down, let it digest, and then get back to the slides, games, and rides at the party! We also offer sliders which are both adorable and delicious for all aged ragers.

Chicken, Sausage, and Steak Sandwiches - BBQ Chicken, Italian Sausage, and Cheesesteaks are a great way to diversify your grill worthy event!

Fajitas - These hot, sizzling goodies are great for people who have adventurous taste buds and want that south-of-the-border feel in your backyard.
BAKED & FRIED
Chicken Tenders, Corn Dogs, and French Fries - Get that boardwalk feel with these incredible options. If you throw a South Jersey carnival party, these are a must have for the kiddies! The same applies in Philly and Bucks County, PA, as well.

Pizza, Wings, Tacos, and More - Click HERE to view our entire catering menu!
We conquer hunger and games in one fell swoop! If you are looking to rent inflatables around Philadelphia, call us today at 856-607-2816. Remember, summer dates are booking quickly.

#NomNomNom
---
May 2016
Wetter is Better Especially When Saving Cheddar
Translation: J-Dogs has tons of water amusements at a discounted price all summer long!
Over the last few weeks, the east coast has experienced ninety-degree heat on a few occasions. This is leading meteorologists to believe that we are in store for one of the hottest summers that the Tri-state area has seen in a long time.
The heat shouldn't keep you and your family cooped up inside. Video games, Netflix, and surfing the web are great in the winter, but when the sun is out you should be too. Have some fun in the sun while you compete in the heat with these nifty offerings from J-Dogs Amusements, the leading provider of inflatable water slides and moonbounces for rent around Philadelphia and Bucks County, PA.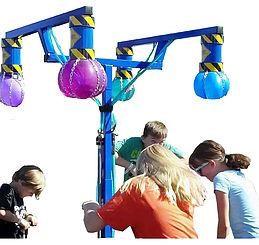 Hydro Blaster Extreme - This 4-player game is simply fantastic! Players are positioned below large water balloons and race to soak their opponents by bursting their balloons. Become the winner by staying dry, and then you can celebrate by taking a victory dive down one of our epic water slides. Special June rental rate for Hydro Blaster Extreme: $245.

Hawaiian Slip-N-Slide - An inflatable 30-foot tropical water slide that brings an exotic vacation straight into your backyard. Dual lanes allow two people to race simultaneously to provide maximum fun. For the entire month of June, this item is discounted for residents of PA, NJ, DE, and NY!

Foam Parties - Yes, that's right. FOAM PARTIES! Perfect for partiers of most age groups! Our specially formulated foam fills the dance pit with safe bubbles that are hypoallergenic and non-toxic. This means it will not irritate your eyes or damage your clothes. Included in this special product are one attendant and four hours of fun.

Arcade Games - While you dry off, take advantage of our awesome selection of arcade games. These games include bubble hockey, crane game, Dance Dance Revolution, inflatable skee ball, and a Konami 12-in-1 arcade unit. Moms, dads, sons, and daughters can play together while waiting for their turn on the water slides. All of the arcade games for rent around South Jersey are competitively priced so you can package these games with moonbounces and still have room in the budget for our catering services.

Carnival Games - Show off your skills to your significant other by tossing a baseball through the target or into a milk bottle. Other games perfect for summer include Slap Shot Hockey, Tic Tac Toe, and dart games. For information about our carnival games for rent around Philadelphia and Bucks County visit http://j-dogs.com or call 800-914-4871 today.
---
April 2016
Creative Wedding Catering 101
A lot of work goes into making sure your special day is just that… SPECIAL.
Although Weddings are monumental moments that bring together friends and family from afar, different receptions tend to blend together. This is due to universal menus, playlists, and settings that wedding planners and couples decide on months in advance.
What if I told you that changing your menu with caterers like J-Dogs gives guests a more memorable experience while cutting down on cost? If I asked you if you like the way that sounds, chances are you'd say "I do." (I am not proud of that wedding pun.)
Ok. Time to fast forward.
After the newlyweds say "I do" (at the ceremony), guests typically filter into cocktail hour. Small talk is made while hungry guests survey the area for incoming sustenance to coat their bellies before hitting the dinner table and dance floor. In the current era of creative thinkers and planners, people demand thoughtful food selections.
Nowadays, many brides and grooms alike are choosing a different approach to meal planning for their wedding. The problem with implementing a strict timeline for dining at special events means that guests only have a few times where they can eat freshly cooked foods while they are warm. We prefer to give our clients the option nosh freely.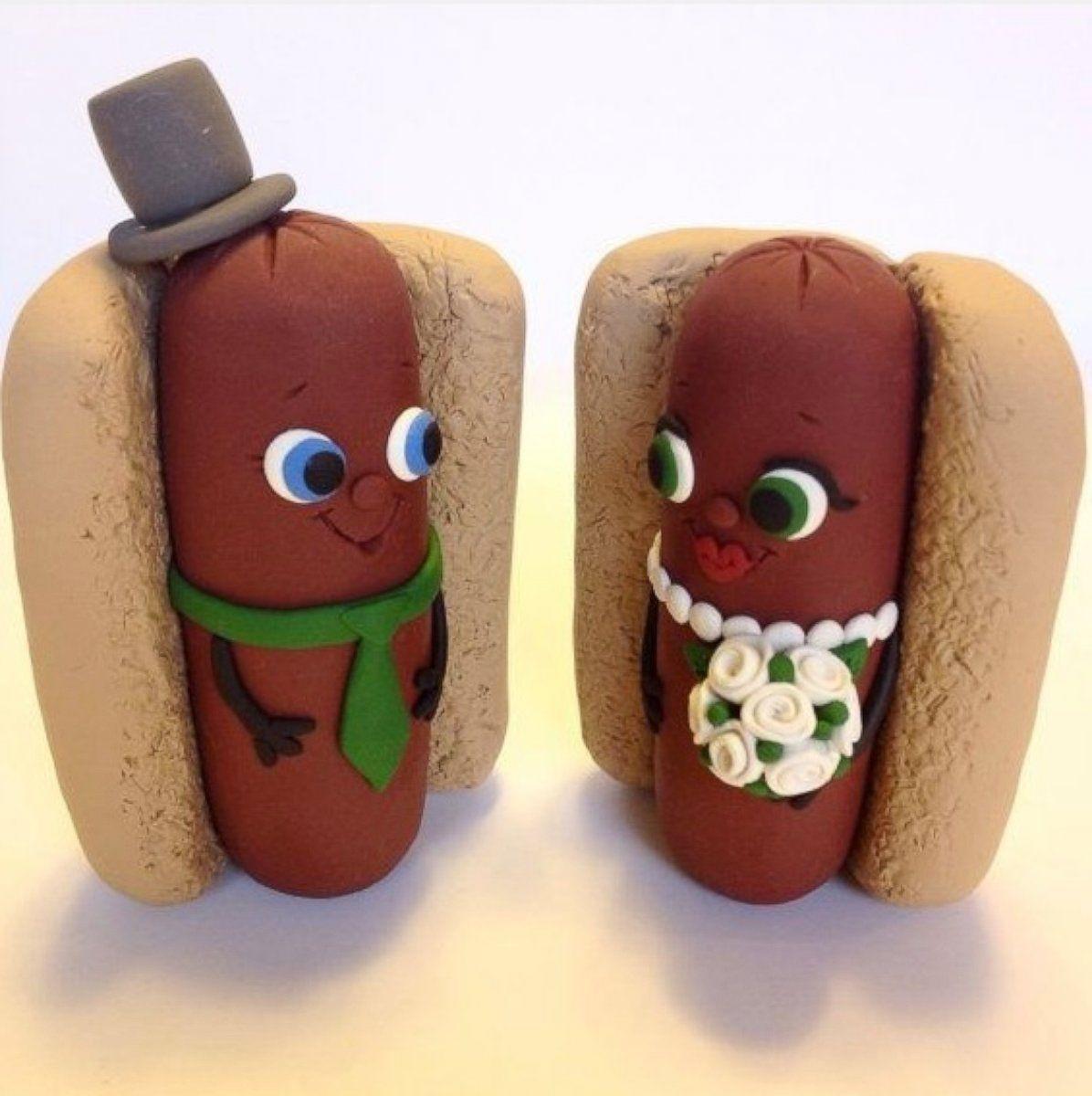 Since themed parties are trending upwards, newlyweds need to match their cuisine with the theme. One of our more popular (and less traditional) options for catering Sweet 16's, Bar Mitzvahs, and outdoor Weddings, are the J-Dogs Hot Dog Stands. These carts give guests many ways to beef up a party. This delicious yet cost-effective package is ideal for couples who love hiking, sports, picnics, and summer BBQs. Forget pigs in a blanket. Super-size those pigs and toss them into a fluffy bread-based Snuggy! Dogs in a Comforter? Ok I'll stop.
Other ways that we stand alone include: Funnel Cake, Fried Oreos, Pizza Carts, Adult Snow-Cones, Cheesesteak Eggrolls, Taco Bars, Cotton Candy, and many more fun options! (Don't worry; we still have traditional options like salads and ice cream to appease grandma and Aunt Betsy).
Don't spend all of your party budget on overpriced and undersized entrees and appetizers. Save money by implementing unique catering solutions like ours so you can put all of your savings towards an extra-epic honeymoon!
For more information on spicing up your special day and leaving guests buzzing for months to come, visit www.j-dogs.com or call 800-914-4871. J-Dogs + Hot Dogs = A Dog-gone Good Time!
---
March 2016
7 New Party Activities That'll Drive Kids Wild
Mixing work and play is easy, when play is your work. Trust us, all of our inflatables and activities have been tested and approved by our staff! J-Dog Catering & Amusements has been in the party business for over 15 years, delivering the widest range of epic attractions for any occasion!
What makes us the premier catering and amusement company in New Jersey, Pennsylvania, Delaware, and New York?
There are way too many reasons to list, so let me start by outlining J-Dog's top seven new party activities that kids will love in 2016.
Kiddie Play Parks: Mickey Play Park, Hello Kitty Play Park, and the Fun Express Train Station are some of the coolest new editions for parties! They have slides and activities that are sized just right for toddlers. Parents can easily see the kids from all angles!

New Character Cameos: Reminisce about the old days when your children have the chance to hang with classic characters like Super Bro and Toy Spaceman! Also new this year is the popular Patrol Pup.

Fluf N Stuf Workshop: Customers can choose a bunch of different animals to stuff! Available in 16" or 8" animals for your guests to bring to "life" and customize a special t-shirt. Add a custom logo to the t-shirts for your special events! The package comes with our own custom "beary cute" school house that stuffs the bears.

Inflatable Skee-Ball: That classic arcade feel on a massive scale! Perfect for kids who like to have a friendly competition with their pals.

Human Foosball/Basketball: This interactive life-size soccer/basketball hybrid game is always a hit at company events, sports tailgates, and birthday parties! Just like table foosball, each player is stuck in position and team mates must work together to score a goal.

Giant and Backyard Games: We have classic backyard games that can be set up anywhere including GIANT versions of your favorites like Jenga, Chess, Pong, and Pool!

Graffiti Wall: This unique product allows users to create virtual graffiti on a digital wall. Photos can be added to the image to make it an awesome photo-editing experience for people of all ages. Your photos will be printed on site and put in a frame to take home. Customize even further with an event-related overlay that will print on all photos. This attraction is ideal for Bar/Bat mitzvahs, Sweet-16's, and slumber parties! Also great as a promotional activity that will give your potential customers a personalized item with your logo on it.
We also offer an inflatable archway and other promotional items that enhance public events. Utilizing large eye-catching visuals like our enormous gorilla will help draw spontaneous guests to your event. Growing old is inevitable. Growing up is optional. For all of your party entertainment needs, you can contact J-Dogs Catering & Amusements at 800-914-4871 today!